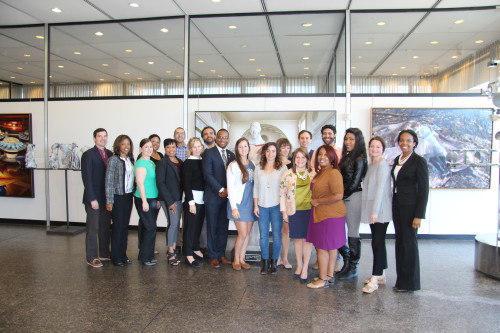 (October 20, 2015|New Orleans, LA) Today, the Greater New Orleans Foundation is pleased to announce the 18 nonprofit leaders who successfully completed the Emerging Leaders Program, which combines leadership development with essential management skills-building.
During the intensive, four day program, the participants were taught important managerial skills such as how to supervise, inspire, and influence. They also sharpened their business skills with an emphasis on financial strategies.
"This program allows us to invest in tomorrow's nonprofit leaders," said Joann Ricci, vice president of organizational effectiveness at the Greater New Orleans Foundation, who designed the program in partnership with CompassPoint Nonprofit Services, a San Francisco-based company with a national reputation in guiding nonprofits to be better managed and more adaptive in order to achieve higher impact. "Now in our second year, we're producing more and more leaders in the nonprofit sector who are equipped to lead and make smart decisions. This will have a profound effect on the organizations where they work and make an impact on our community," said Ricci. Additional funding was provided by the Kresge Foundation.
The 2015 Emerging Leaders are (as pictured above left to right): Rich Arnold, director of development and communications, Covenant House; Rashain Carriere-Williams, senior director of program operations, Boys Town New Orleans; Kimberly Hollard, director of fund development, Providence Community Housing; Adrianne Ben-Williams, program manager, Children's Bureau of New Orleans; L'Oreal Ranson, senior case manager, New Orleans Women and Children's Shelter; Elise Gallinot Goldman, program director, KIDsmART; Darrin McCall, director of programs, Youth Empowerment Project; Ethan Ashley, director of community engagement, Urban League; Kelsey Foster, campaign manager, Committee for a Better New Orleans; Erica Buher, program director, VAYLA; Tara Zapp, assistant director, Louisiana Endowment for the Humanities; Tori McRoberts, director of external relations, New Leaders; Jacques Hebert, communications director, National Audubon Society/Restore the Mississippi River Delta Coalition; Katherine Medina, homeownership services manager, Harmony Neighborhood Development; Adam Aronovitz, co-founder and director, The Cookbook Project; Milan Sherry, youth organizer, BreakOUT!; and, Tazha King, director of college competition, College Track New Orleans. Not pictured: Danielle Broussard, reasearch manager, Institute of Women & Ethnic Studies.