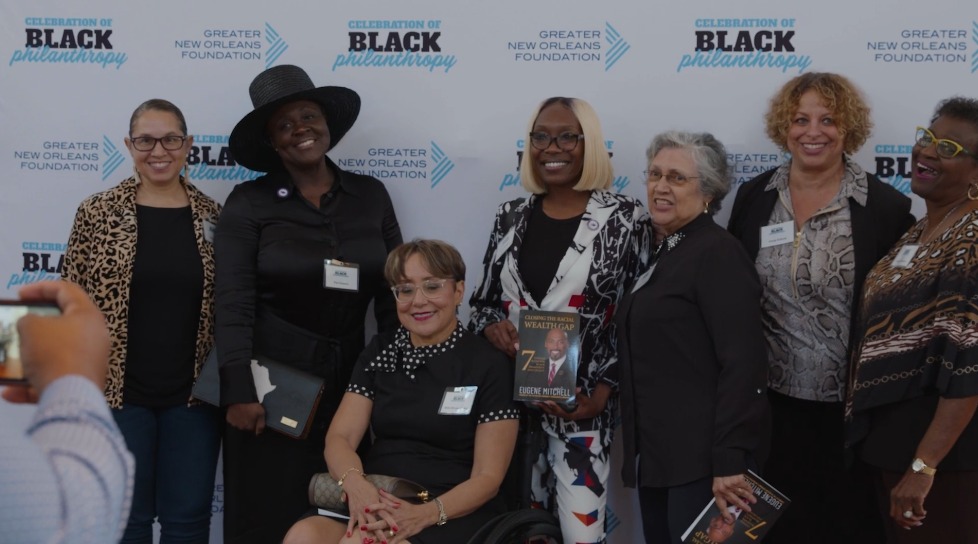 To view the highlights from this year's Celebration of Black Philanthropy, please click here. 
As we round out the end of Black History Month, the Greater New Orleans Foundation (Foundation) is looking back at our fourth annual Celebration of Black Philanthropy that was held on February 7. At the Celebration, the Foundation proudly announced that we have achieved our goal of distributing $3 million to Black-led nonprofits through our Greater Together Fund for Racial Equity. Launched in 2020, the Greater Together Fund for Racial Equity awards funding to Black-led organizations leading the fight for racial justice in our region and working to build wealth in the African American community. The Foundation also announced the 30 Black-led organizations chosen to receive the Fund's 2023 renewal grants totaling $550,000. The Celebration of Black Philanthropy was presented by sponsors JECohen and the Dale Mason Cochran Family Fund.
"During the Foundation's fourth annual Celebration of Black Philanthropy and as part of our commemoration of Black History Month, I am proud to share that we have honored our commitment to raise and distribute $3 million over the course of three years to Black-led nonprofits. Studies regularly show Black Americans to be the most generous Americans, and we've seen reports that show Black New Orleanians are among the most generous of all people in our country. That's the kind of generosity we are paying tribute to with our Celebration of Black Philanthropy," said Andy Kopplin, President and CEO, Greater New Orleans Foundation. "When the Foundation was created as the Community Chest 100 years ago, our city and region were divided by race. Continuing to repair that breach is the most important work we have to do in our community and region. We are now, more than ever, more intentional about investing in partnerships with communities of color, not for them. We want to thank Facebook and other major donors to the Greater Together Fund including the Zemurray Foundation, First Horizon Bank, the Collins Diboll Foundation, the Hilbert Fund, Janet and Barry Lang, and Martha Murphy and Jack Leahy. Their partnership supporting this important work will help us create a stronger and more just community."
In line with the purpose of the Celebration of Black Philanthropy and since launching the Greater Together Fund for Racial Equity in November 2020, the Foundation has made large, sustained investments in a number of nonprofits leading on racial equity whose work has scalable local, regional, and even statewide impact. The Fund was supported by investments of over $500,000 from the Foundation.
The Greater Together Fund for Racial Equity grant recipients include:
American Civil Liberties Union (ACLU) of Louisiana
Ashé Cultural Arts Center
Birthmark Doula Collective
Center for Sustainable Engagement and Development
Corporate Internship Leadership Institute
Daughters Beyond Incarceration
Ellis Marsalis Center for Music
Familias Unidas en Accion
Families and Friends of Louisiana's Incarcerated Children
Go.Be.
Groundwork New Orleans
Grow Dat Youth Farm
People's Housing+/Home by Hand
House of Tulip
Jane Place Neighborhood Sustainability Initiative
Junebug Productions
Louisiana Fair Housing Action Center
Made in New Orleans Foundation
New Orleans African American Museum
No Dream Deferred NOLA
Operation Restoration
Our Voice Nuestra Voz
Power Coalition for Equity and Justice
Sankofa Community Development Corporation
The 1881 Institute
The First 72+
Thrive New Orleans
Training Grounds Inc.
Ujamaa Economic Development Corporation
Urban League of Louisiana
"With the generosity of GNOF's grant, Thrive has made strides towards dismantling systemic roadblocks that business owners face. ThriveLaunch Business has tailored the curriculum and recruitment model to specifically serve Black, Indigenous, and People of Color (BIPOC) business owners in the city of New Orleans," said Chuck Morse, Executive Director, Thrive New Orleans. "This grant supported retraining our staff in racial trauma healing; we can work with BIPOC entrepreneurs to overcome the emotional and social barriers they face to success, along with financial and logistical barriers. Our staff are now even more uniquely equipped to uplift each individual throughout our programs, meeting them at the obstacles where they were previously stuck."
"We are a Black-led 501(c)3. Data shows many Black-led nonprofits struggle to secure funding. GNOF's support has a tremendous impact," said Perry Sholes, SPHR, SCP, Founder & Executive Director, Corporate Internship Leadership Institute. "More important is the level of confidence we gain from knowing an organization of GNOF's stature supports us with guidance and resources to help us grow as an organization."
"Grow Dat continues to develop a deep understanding of what racial equity means to our community and how it can be operationalized meaningfully inside and outside our organization," said Julie Gable, Co-Executive Director, Grow Dat Youth Farm. "The Greater Together multi-year grant has reminded us and our constituents of a shared belief: advancing racial equity is a lifelong commitment, not a one-and-done exercise; it requires persistent resources, iterative introspection, and bold action. We remain open to supporting and creating long-term equitable policies and initiatives, such as our forthcoming Mobile Food Access Project, which will situate us as an equity facilitator at the individual and community levels, creating necessary avenues for BIPOC to develop an intentional community-driven food system."
"I would like to thank GNOF for providing Training Grounds with general operating funds that allowed us to not only provide quality programming to families with young children (birth to five), but it also allowed us the bandwidth to focus on building a strong and sustainable infrastructure to provide quality programming for years to come," said Melanie Richardson, Executive Director, Training Grounds Inc.
In the Foundation's 100th year, over 180 people attended its Celebration of Black Philanthropy which is held annually to recognize past and present Black New Orleanians who give generously to uplift and bring impact to causes that improve our community. JECohen, who served as a presenting sponsor for this year's celebration, has agreed to a multi-year presenting sponsorship commitment of $10,000 per year over the course of the next 5 years. JECohen is an investment management firm that "puts people first, always." The firm believes in helping families, businesses, and institutions develop and implement successful, long-term financial strategies for their futures. Founded in New Orleans in 2015 by Jarrett E. Cohen, the firm is rooted in family, long-standing clients, and a fresh perspective on investing that values relationships, integrity, and opportunity for all.
Our second presenting sponsor for this year's event, the Dale Mason Cochran Family Fund is led by Dr. Dale Mason Cochran, a New Orleans native and the founder and owner of Concourse Ventures, an airport concessionaire with locations across the country. Cochran has supported the work of the Greater New Orleans Foundation since 2003, when she established the Louis and Daisy Mason Scholarship Fund in honor of her parents. She has been a consistent and regular supporter of the Foundation ever since, supporting such initiatives as the Rebuild New Orleans Fund, the Response and Restoration Fund, and the Partners in Philanthropy Annual Campaign. We are delighted and honored that JECohen and the Dale Mason Cochran Family Fund continue to support the work of the Foundation with their sponsorship and commitment to the Celebration of Black Philanthropy.
This year, the Foundation invited Eugene Mitchell, MBA, President & CEO of financial consulting and financial services firm E. Mitchell Enterprises, LLC, to be the keynote speaker. Mitchell is the author of Closing the Racial Wealth Gap—7 Untold Rules for Black Prosperity and Legacy. He is known for successfully creating and leading a campaign at New York Life Insurance Company that generated over 50 billion dollars of future income for the Black community. As a consultant, Mitchell provides direction to financial services organizations to drive community engagement, sales, recruiting, lead generation, and diversity and inclusion practices. He is also a coach, serving corporate Black Advisor Networks.
Mitchell led a fascinating discussion with Dr. Kenneth St. Charles, the Greater New Orleans Foundation's Vice President for Philanthropy, and a Q&A session on the significance of Black philanthropy and how to best build generational wealth for Black families.
Through this latest round of funding, the Greater Together Fund for Racial Equity continues to provide critical sustaining support to nonprofits working tirelessly on the community level in the following areas:
Bolstering the work of Black-led nonprofits leading on racial equity: making investments to sustain the work of local nonprofits that are having an impact in eliminating inequitable systems; and
Closing the racial wealth gap by investing in initiatives to help small, minority businesses grow their share of gross receipts in our region from the current level of two percent to create meaningful prosperity, as well as investing in housing and other strategies that can build wealth for African American families.
Want to Know More?
To learn more about the Celebration of Black Philanthropy, contributing to the Greater Together Fund for Racial Equity or Donor Advised Funds (DAFs), and other charitable tools, please contact Dr. Kenneth St. Charles, Vice President for Philanthropy at the Greater New Orleans Foundation at kenneth@gnof.org.
### 
About the Greater New Orleans Foundation: 
With roots extending 100 years, the Greater New Orleans Foundation connects generous people to the causes that spark their passion. As one of the most trusted philanthropic organizations in the region, we work every day to drive positive impact through philanthropy, leadership and action in our thirteen-parish region. In addition to grantmaking, we convene people, resources, and ideas to create intelligent strategies and solutions to meet our region's greatest challenges. We are proud to serve as a vocal civic leader with our partners to ensure a vibrant, sustainable, and just region for all. Learn more at www.gnof.org.