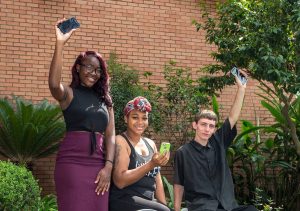 Progress of the Development of Covenant House's YouthConnect
In the 2013 Pitch It! The Innovation Challenge, the Covenant House team knew they had an innovative and hot concept to present to the judges but weren't quite sure "YouthConnect," a smartphone app, would engage and resonate with their target population of at-risk youth in New Orleans. Not yet.
Rich Arnold, director of development and communications for Covenant House, and Jim Kelly, executive director, and the staff work tirelessly to provide food, clothing, shelter and comprehensive services to at risk youth and young adults in New Orleans— as many as 139 youth and children every day. But would an app, however well designed, connect the kids in crisis to the services they so desperately need? No other human services nonprofit had ever developed such a digital tool. Covenant House would be the first.
According to Rich and Jim, there are upwards of 16,000 at-risk kids in the metro area–homeless, abused, addicted, abandoned, frightened. As many as 65 percent, maybe more, use smartphones. "Most of these kids would pay for their mobile devices ahead of food," Rich says. "They use them constantly for gathering information and communicating with friends and peers or family, if they've still got them."
The YouthConnect app needed to be more than a static directory of Covenant House's and partner organizations' services, Rich believed. It needed to be a socially interactive outreach tool mirroring the interests and concerns of kids in crisis to draw them onto a pathway to stability and safety.
If they don't connect and engage through this digital tool, they're likely candidates for addiction, violence, crime, and despair. The design and deployment of YouthConnect is that important, Rich and Jim are convinced.
The Pitch It judges agreed and awarded the Covenant House YouthConnect project a small grant to encourage development of the innovative app. With the finalist's grant award in hand, the Covenant House team began the arduous process well known to any app developer to develop a robust digital platform and an interface with sophisticated functionality and features.
Fortunately for Rich and the Covenant House team, Liza Cowan with JP Morgan Chase & Co. Global Philanthropy learned about YouthConnect and was intrigued. She connected YouthConnect with a team of volunteers in JPMorgan Chase's national initiative "Technology for Social Good." The Chase technology team of designers and programmers worked with Rich to create prototypes of the app that Rich tested with focus groups of Covenant House's youth clients. The kids held back nothing, and their critiques influenced every subsequent iteration of the programming and design. The ongoing involvement of Covenant House's clients in the development process of the app is crucial to its effectiveness, Rich believes, and will continue through the launch and life of the app.
In the fall of 2016, Covenant House will roll out another iteration of YouthConnect that incorporates simple registration, maps, calendaring, personalization, chat, and instant messaging functions. After review and further adjustments, another version of the app will go live. The Covenant House YouthConnect app is a work in progress and always will be. That's the essential nature of social media programs – evolution and refinement–and always evolving to continually serve the needs of at-risk youth.
Want to put your innovative ideas in action?
Pitch It! The Innovation Challenge is accepting applications, the deadline is August 5.