Taking Steps Together on Equity & Climate Change: A Report by and for New Orleanians
New Orleans, LA (September 30, 2019) – Today, the Greater New Orleans Foundation, the Cantrell Administration, Deep South Center for Environmental Justice, advocates and community members unveiled a new report – Taking Steps on Equity & Climate Change: A Report by and for New Orleanians. Joining the partners in today's announcement were New Orleans City Councilmembers Kristin Palmer and Jared Brossett.
Funded by the Greater New Orleans Foundation and Partners for Places, an initiative of the Funders' Network for Smart Growth and Livable Communities, this project's mission is to implement the City of New Orleans' Climate Action Strategy in ways that achieve equitable results in neighborhoods.
Since March of 2018, local issue advocates and community leaders formed the Climate Action Equity Advisory Group and held Community Forums in Algiers, Central City, Gentilly, Hollygrove, the Lower Ninth Ward, New Orleans East, and Treme neighborhoods where hundreds of residents identified the immediate impacts they currently experience from climate change, and potential solutions.
"Today, we are proud to stand with community leaders, advocates, and elected officials who dare to take action," said Andy Kopplin, President and CEO of the Greater New Orleans Foundation. "Since Hurricane Katrina, New Orleans has been increasingly experiencing the adverse effects of climate change through more intense and frequent storms; accelerated sea level rise; and consistently higher temperatures. This report is an actionable prescription for the issues impacting residents in New Orleans today."
Taking Steps on Equity & Climate Change: A Report by and for New Orleanians includes 21 recommendations to: modernize our energy use; improve transportation choices; and create a culture of awareness and action while achieving equitable outcomes.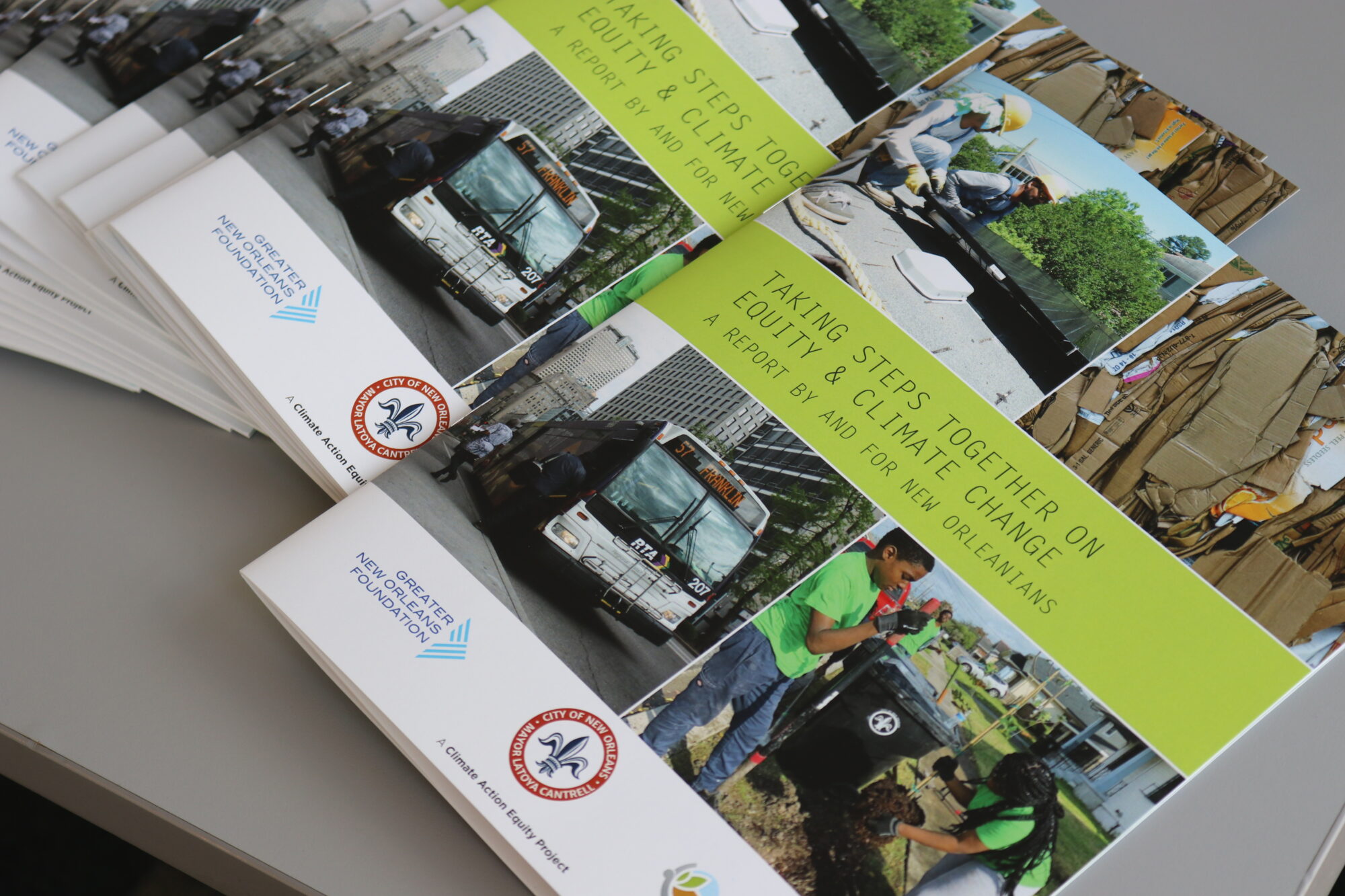 "As we work to address the challenges of climate change, we have a responsibility to ensure that our investments in adaptation are made equitably," said Ramsey Green, City of New Orleans Deputy Chief Administrative Officer and Chief Resilience Officer. "I'm proud of the work that's been done on the Climate Action Equity Report because it acknowledges the voices of residents of color, low-income residents, and immigrant communities. These are voices that are too often left out, but these are the voices we need to more adequately address social equity and environmental justice issues. This report is the playbook for how we position New Orleans to be a vibrant and thriving city for everyone in the decades to come."
"We realize that it is only us, as members of our community, who can develop real solutions on these issues," said New Orleans City Councilmember Kristin Palmer. "We know better than anyone else how we are affected by climate change. It is impressive to see the robust community engagement that went into this report and its recommendations. I am proud to lead efforts on the City Council like the first Complete Streets ordinance in the state which has led to a focus on increased transportation alternatives. I am committed to working with the partners and the Cantrell Administration to advance the goals in this report to improve our neighborhoods."
"By setting goals and breaking down action steps, the Climate Action Equity Report provides an invaluable guide to residents and policy leaders on how to address climate change. The report is an important first step towards enacting policies that not only address climate change but also ensure that our actions are reasonable, compassionate, and just. I am proud to stand with community leaders across the city who participated in forming this important report," said New Orleans City Councilmember Jared Brossett. "We have a moral obligation to deliver tangible solutions that combat the negative impacts of climate change that residents across our city are facing today. I look forward to continuing to work with the Cantrell Administration, my colleagues on the City Council, and the public to adopt the best solutions we can to mitigate the impact our residents are experiencing."
"For more than 25 years, the Deep South Center for Environmental Justice has provided research and education that builds the capacities of African American communities who are disproportionately exposed to environmental hazards and the climate crisis, to engage in policy and system change," said Dr. Beverly Wright, Executive Director of the Deep South Center for Environmental Justice. "This report presents a treasure trove of recommendations that are not pie in the sky, but tied to making a difference in our neighborhoods and city. Each recommendation requires partnerships and collaborations with key stakeholders across the city. In short, achieving equity and taking responsible action on climate change requires all of us to work together."
"The Climate Action Equity Project is a major step toward energy democracy in New Orleans," said Logan Atkinson Burke, Executive Director of Alliance for Affordable Energy. "These recommendations represent priorities of real community members and inform and inspire the Alliance's positions across all of our work as a consumer advocate."
"I heard the challenges firsthand that fellow residents are experiencing due to climate change," said Pastor Irvin Bell. "Increased warming has led to real increases in resident energy costs. This is an example of the burdens added to those families already experiencing inequities. This report was crafted by and for New Orleanians with actionable solutions to improve equity and combat the challenges residents face today in our neighborhoods. I look forward to working with other faith, community, and elected leaders to move this agenda forward."
"Transportation is a huge contributor to climate change," said Alex Posorske, Executive Director of Ride New Orleans. "44 percent of local greenhouse gas emissions come from the transportation sector. Therefore, we must improve public transportation, invest in underserved communities to make it easier for people to get around without a car, and make public transit the ideal choice for transit, rather than a choice of last resort. This type of investment will improve access to jobs and improve the environment at the same time."
The complete report – Taking Steps on Equity & Climate Change: A Report by and for New Orleanians can be found here.
###