By joining our annual fund campaign as a Partner in Philanthropy, you fuel the Foundation's work, just as the Foundation fuels the work of so many nonprofits. We are devoted to the 13-parish region of Southeast Louisiana we serve, and as such, we strive to make it more vibrant, sustainable, and just for all. As a Partner in Philanthropy, your gift allows our team to respond in real-time to our community's most pressing needs. Your gift means we can support and collaborate with nonprofits and other partners to make a real impact in the region. By supporting the Foundation's work right now, you boost the power of our giving, and the Foundation's year-round leadership in some of the efforts you see below.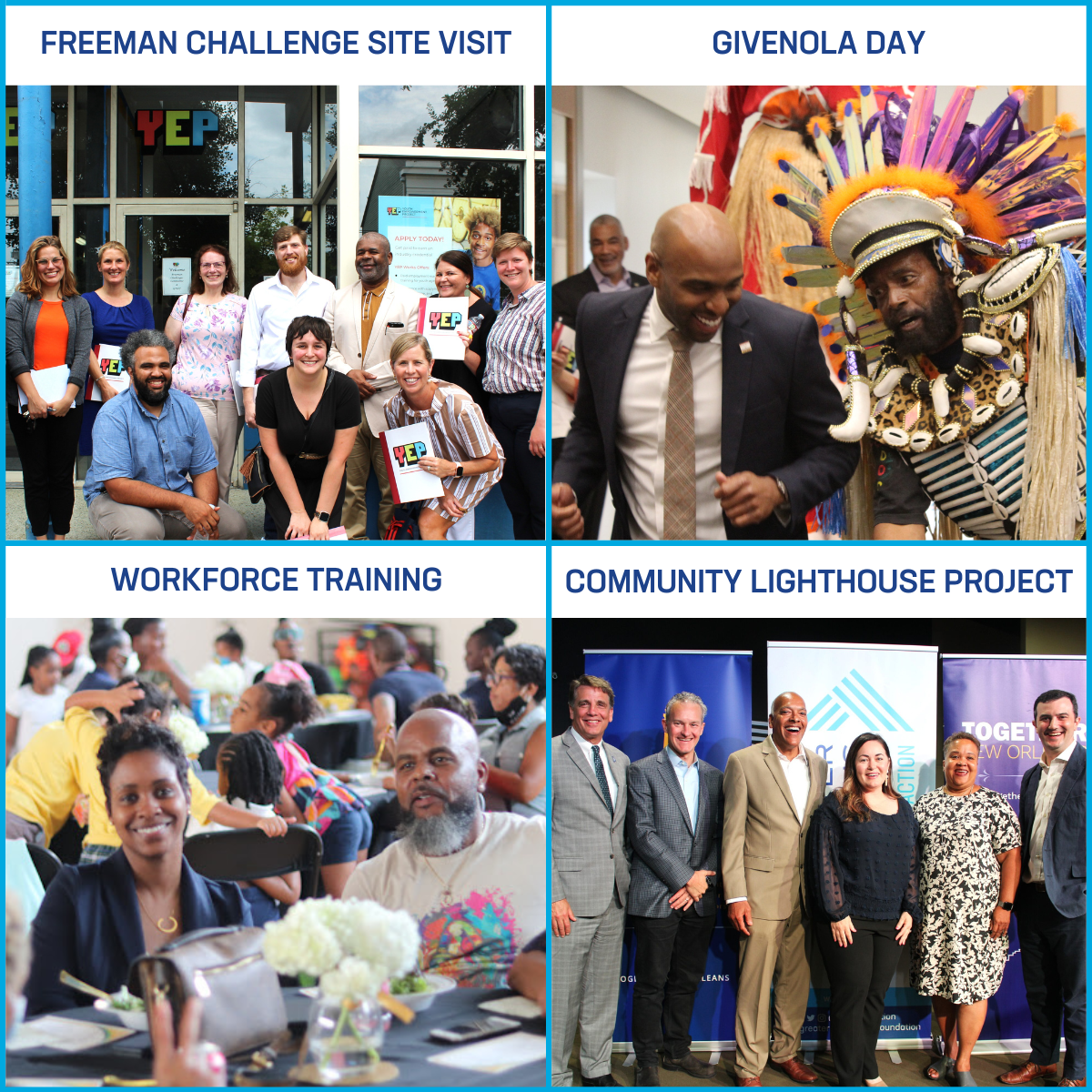 As a Partner in Philanthropy, you… 
Help us fuel and strengthen nonprofits:

Our region is facing real challenges, and nonprofits are responding. The Foundation powers that work. We do so through grantmaking and through our nonprofit leadership and effectiveness programs, like our immersive leadership programs for new executive directors and governance training for board members. Through our mergers and partnerships initiative, we help nonprofits get stronger and save money. Thanks to your gift, for instance, we helped Boys & Girls Clubs in New Orleans and Baton Rouge merge into the regional Boys & Girls Clubs of Metro Louisiana and three local housing agencies consolidate into one.

Back GiveNOLA Day:

With your support, we helped over 900 nonprofits raise nearly $8 million from over 57,000 donations in 2022. One hundred percent of these donations went directly to nonprofits, plus an additional share from our Lagniappe fund.

Support our community leadership:

The Foundation leads initiatives to make our community stronger. Your gift helps us accelerate the growth of our biosciences corridor in downtown New Orleans, protect our communities from flooding with green infrastructure, and develop innovative workforce training programs to support both people seeking jobs in health care and construction and their employers.

Power our disaster response:

The annual fund allows our team to act swiftly when disaster strikes, to rally urgent resources, and get grants quickly to organizations on the front lines. It also allows us to partner on innovative projects like the Community Lighthouse Project, which installs solar panels and batteries at first-responding agencies. This allows them to, quite literally, operate at full power while assisting our neighbors after a disaster.
Your giving is the engine behind our impact. Please consider supporting the Greater New Orleans Foundation as we do our critical work to drive positive impact for our communities today and into the future.