Executive directors from eighteen nonprofits completed an intensive program designed to give leaders who have been in the role for three years or less the skills they need to succeed. Executive Director Fundamentals, created by the Greater New Orleans Foundation Organizational Effectiveness initiative in partnership with Fiscal Management Associates, a nationally-recognized leader in financial management and governance expert Marla Cornelius, author of Daring to Lead, combined expert instruction and peer-learning to tackle some of the toughest issues new executive directors face.
Funding for the program is provided by the generosity of a strong corporate citizen, Chevron.
"Intensive capacity building is a focus of our Organizational Effectiveness work that strives to strengthen nonprofits," said Joann Ricci, Vice President of Organizational Effectiveness at the Greater New Orleans Foundation. "We are excited to partner with Chevron, Fiscal Management Associates, and Marla Cornelius to offer nonprofits this opportunity to improve."
"It was a real eye-opener for me and will have immediate impact on how we do things around here," said Chris Schottland, Executive Director, United Saints Recovery Project. "This is really going to make my organization more effective and, dare I say it, more resilient. The course was well paced, highly informative, and well taught. Please feel free to share with anyone who wants to know what the Greater New Orleans Foundation is doing to strengthen this city's non-profits."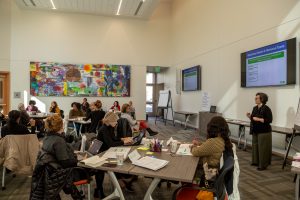 The Executive Directors, representing a wide variety of nonprofits in size and sector, sharpened their skills in such areas as leadership, financial management, supervision, and board governance.
"The program taught how our finances can express our values as an organization; it demystified the steps we can take to invest in our future and impact we'd like to achieve," said Sharree Walls, Executive Director, Emerging Philanthropists of New Orleans.
The 18 graduates of the Executive Director Fundamentals Program are:
Ann Ollendike, Basket Of Hope
Chelsea Hylton, Project Peaceful Warriors
Chris Schottland, United Saints Recovery Project
Devon Turner, Grow Dat Youth Farm
Janie Glade, Gladewaves
Jillian Sandoval, Evacuteer.org
Kat Rieder, Roots of Renewal
Katie Corkern, Northshore Families Helping Families
Lanette Dumas, Parkway Partners Program
Lauren Darnell, Made In New Orleans(MiNO) Foundation
Mark Raymond, Jr., The Split Second Foundation
Megan Koza Mitchell, Hermann-Grima + Gallier Historic Houses
Phoebe Ferguson, The Plessy and Ferguson Foundation
Rebecca Conwell, New Orleans Recreational Development Foundation
Sade Dumas, Orleans Parish Prison Reform Coalition
Sharree Walls, Emerging Philanthropists of New Orleans
Susan Trantham, West Jefferson Hospital Foundation
Tiffany Netters, 504HealthNet, Inc.
The mission of the Greater New Orleans Foundation is to drive positive impact through philanthropy, leadership and action. Through its Organizational Effectiveness Initiative, the Greater New Orleans Foundation is supporting the regions nonprofits by ensuring they benefit from good management, effective leadership and strong governance, allowing them to better deliver programs that serve the community. In 2018 so far, the Organizational Effectiveness Initiative has led 27 learning opportunities with 623 attendees.