This month, the Foundation will welcome two new Directors to the Programs Team. Devon Turner joins the Foundation as Director of Nonprofit Leadership and Effectiveness. Prior to her arrival, Devon served as the Executive Director of Grow Dat Youth Farm. Dan Favre will serve as the Foundation's Director of Environmental Programs. Dan previously served as the Executive Director of Bike Easy. 
In today's blog, we'll meet both Devon and Dan and hear about their journeys to the Foundation.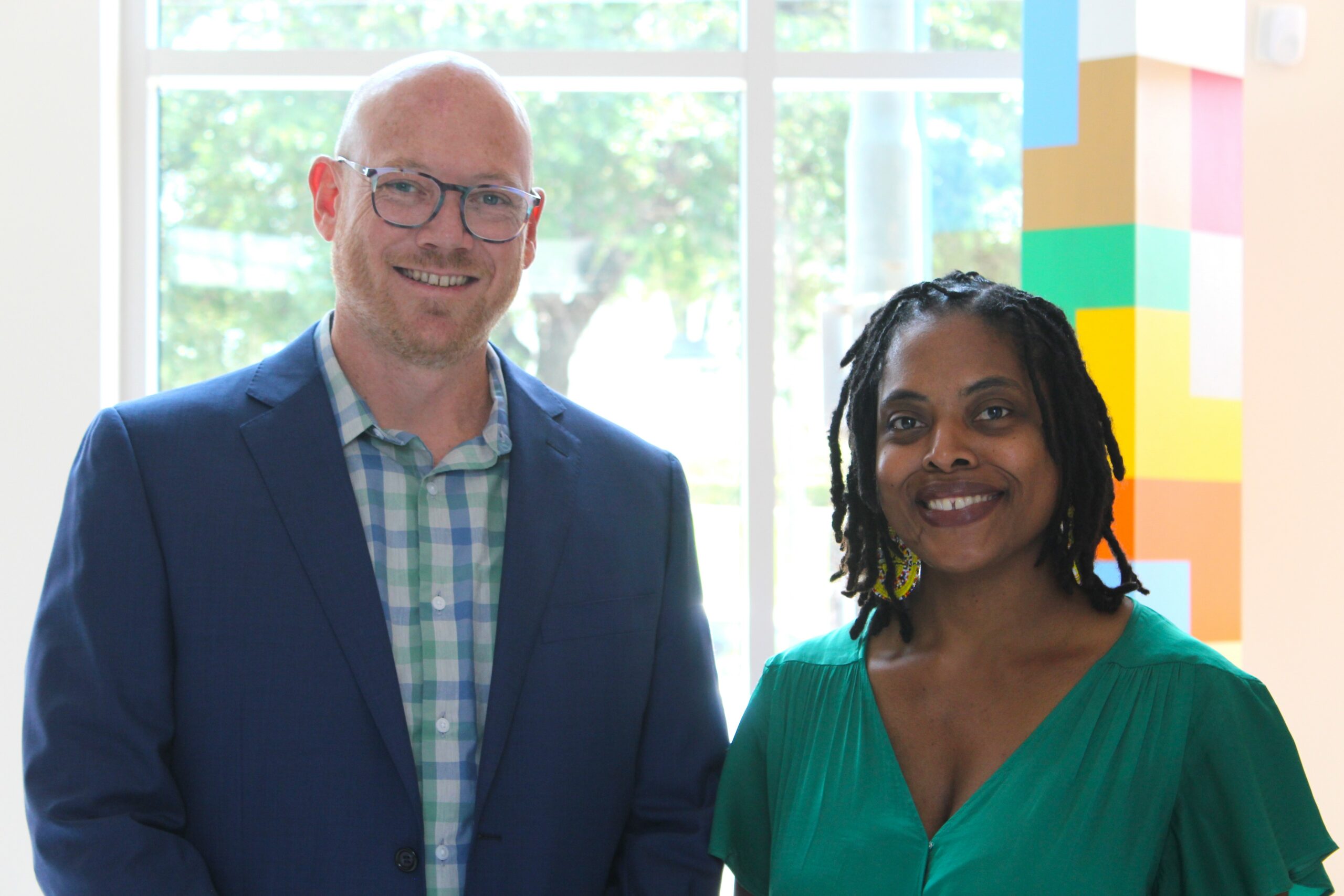 What career path led you to the Foundation?
Devon Turner: Prior to the Foundation, I served as Executive Director of Grow Dat Youth Farm, a local youth leadership development organization that uses food production as a platform to facilitate leadership development. For over 25 years, I have prioritized equity and justice in all of my career choices – as a student and educator through research, instruction, and facilitation, and in my nonprofit service through my approaches to change on the individual, community, and systems levels. In my new role as Director of Nonprofit Leadership and Effectiveness, I have the opportunity to apply that knowledge and those experiences to support organizations in being more impactful.
Dan Favre: Similar to Devon, I come from the nonprofit world. I spent many years in the region's non-profit sector as Executive Director of Bike Easy, the Greater New Orleans bicycle education and advocacy organization.  I also worked as a Campaign Organizer and then Communications Director at Healthy Gulf (previously called Gulf Restoration Network), an environmental advocacy organization focused on clean water, coastal restoration, healthy fisheries, and climate justice. I currently volunteer on the Boards of Directors for Blue Krewe, the local non-profit that manages the Blue Bikes bike share system, and the Committee for Better New Orleans. I am also a partner in a local neighborhood bar, The Domino, and own an historic corner store in the Irish Channel with friends.
How has working for these nonprofits prepared you for your role at the Foundation?
Devon: Because my nonprofit service spans a range of roles, from volunteer to entry level to executive leadership to board membership, I am personally aware of the challenges organizations face to build relationships and capacity within their organizations and externally. For instance, developing skills and leadership potential of staff members looks different depending on where they are in an organization. I hope to be able to respond to the full range of needs organizations, especially in their leadership.
Dan: Many of the skills that I've honed as a non-profit leader – like grassroots organizing, strategic planning, staff and volunteer management, policy advocacy, fundraising, coalition management, financial planning and budgeting – will be helpful in this role. Most of all, though, my experience building relationships, partnerships, and trust across public, private, philanthropic, and non-profit leaders will enable me to have a big impact as the Director of Environmental Programs.
Have you had any experiences with the Foundation in the past? Have you participated in any of our events or trainings?
Devon: Participating in the Foundation's capacity building offerings, such as the Executive Director Fundamentals series and Board Governance series, were crucial to my success as an organizational leader! As a first time ED, there was so much information to learn, digest, and communicate, and the series were more efficient and effective ways for me to do so. All of the pandemic-related and HR-focused webinars were critical as well.
Dan: I had a very similar positive experience as Devon. Over the years, organization's I've worked with and I, personally, have benefited from the Foundation's leadership and support. GiveNOLA Day has been a major element of Bike Easy's fundraising efforts, the Board of Directors and I all gained crucial insights and skills through Non-Profit Leadership & Effectiveness workshops like Board Governance 101, and the Foundation financially supported specific organizational development initiatives. Through all of these interactions, I was impressed most of all by the smart, dedicated, and welcoming people working at the Foundation. I'm glad to now count myself in that number!
Two areas we focus on here at the Foundation are environment and nonprofit leadership. What excites you most about the work you'll be doing here at the Foundation?
Devon: What excites me most is the chance to support different organizations across the region and to strengthen our full nonprofit ecosystem. As an ED, my primary focus was one organization, so I am looking forward to exploring the broad range of nonprofits and the communities they serve in our 13-parish region.
Dan: Climate change and social inequality are the biggest challenges of our time, and Greater New Orleans is on the front lines of both of these issues. Mitigating and adapting to climate change can only effectively happen along with furthering racial equity, and I look forward to being part of the work that will overcome these intertwined challenges. Specifically, I'm excited to help communities in the region by strengthening BIPOC-led non-profit organizations that are helping people reduce flooding and heat islands in their neighborhoods, engage in complex policy processes to restore our coast, and ensure sustainable and equitable transportation options.
Where are areas where you think you'll be able to impact in the immediate future in your new role? What about any longer-term goals?
Devon: In the immediate future, I want to help nonprofits navigate the challenges brought on by the pandemics. Staff transitions, the loss of financial resources, and environmental impacts are deeply affecting organizations, and I hope to provide them with the tools to stabilize. Long term, I love talking about organizational structures and sustainability, specifically how we can take care of the people who provide the services that care for all of us. I'd love to build out more supports for organizations to have those conversations.
Dan: I'm ready to hit the ground running on supporting projects that will help our communities better live with water by implementing green infrastructure. From the Lafitte Greenway to residents' front yards, there are so many opportunities to better manage stormwater that we can take advantage now! In the longer term, I'm excited to expand the Foundation's work promoting equitable and sustainable transportation throughout the region. Towards these goals and others, I plan to immediately focus on ensuring a big portion of the huge amounts of federal infrastructure investments coming in the next few years will end up in Greater New Orleans on projects that will further our region's equity, resilience, and sustainability.
A few more lighthearted questions to wrap this up. What is your favorite restaurant in the region? 
Devon: My Mama's kitchen! No jokes. She's a great cook! I don't eat out much, but when I do, I love eating at New Orleans Food and Spirits, on the Westbank, with my family.
Dan: Impossible question. My "favorite" is a long, evolving list, but here's what's springing to mind now… I recently made it back to Galatoire's for the first time in a while and had a lovely, martini-heavy lunch. For more casual meals, my partner and I have been frequenting Budsi's Thai near our house a lot lately. Romantic evenings at N7 never fail to impress. Jewel of the South has become a go-to since it opened a few years ago. Whenever I'm hanging with my veggie-loving friends, I make sure to stop at Sneaky Pickle / Bar Brine. I could keep going, but I'll make myself stop here 🙂
And your favorite hidden gem in our region? 
Devon: Wild spaces! Some seasons of the year, I'll pass by fields filled with wildflowers in the more rural parishes. If you're lucky enough to pass by the same area from time to time, you can see the fields change colors, from yellow to blue to purple, depending on what's in bloom. I have to repress the urge to pull over and run through the fields.
Dan: Lincoln Beach & Pontchartrain Beach.
Lastly, our region has been though a lot in the last few years. From hurricanes and tornados to pandemics and infrastructure issues, the greater New Orleans region has experienced many challenges. With that said, what gives you hope or optimism for the future?
Devon: All of the intergenerational and cross sector work that is happening, the collaborations that center young people as drivers of change all fill me with hope!
Dan: Couldn't agree with Devon more. New Orleans is no stranger to hard times, but the people here always manage to find joy in the struggle. My hope for the future lies in this place's ability to, despite the seemingly constant challenges, consistently create beautiful moments and collective expressions of joy.