In launching the LGBTQ Fund in 2016, the Greater New Orleans Foundation was moved by the Out in the South Report, which had been released by Funders for LGBTQ Issues a few years prior. The report shared that while the South had more lesbian, gay, bisexual, transgender, and queer (LGBTQ) adults than any other part of the country, the region received just 3-4% of domestic funding for LGBTQ issues. LGBTQ people in the South were also among the most likely to be experiencing poverty.
The Foundation worked with the input of LGBTQ community members, nonprofit leaders, and donors to shape the focus of the fund. Together, we decided to offer funds to organizations that increase the quality of life for LGBTQ people and their families, particularly elders, transgender youth, and adults of color, LGBTQ people from low-income communities, and LGBTQ people who are disabled.
The LGBTQ Fund prioritizes work that:
Advocates for policies that improve the quality of life for LGBTQ people and their families.
Provides LGBTQ people and families with high-quality, well-coordinated, culturally competent direct services.
Builds the cultural competency of "mainstream" organizations that serve LGBTQ people.
Today's blog highlights one of the amazing recipients of LGBTQ funding, The LGBT Community Center of New Orleans.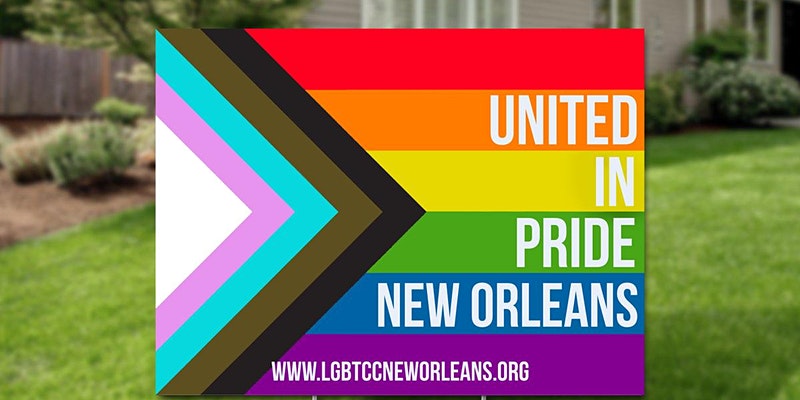 "We need to talk about the stories of joy," says Sable Switch. Switch is vice president of the LGBT Community Center, which was founded in 1992. 
She recalls a moment a few years ago, attending the annual Christmas party of the Trans and Queer (or Questioning) Youth Group of New Orleans, which meets in the Center. 
"Everybody was sitting around on beanbags on the floor and opening presents. And they had a tree that they decorated with decorations they made themselves. And, you know, it just felt like family." 
Syria Jackson is the president of the Center. Tending to the space that holds this joy is, for her, "a labor of love." And, she says, "it means a lot to me…to be the first African American woman of trans experience to be in a leadership role." 
While moments like that Christmas party are joyful, she notes, there is serious work both behind and within them. Joy can be a lifeline, and not just for the Center's youngest community members. It welcomes people of all ages and backgrounds. 
"The space that we're providing is something really tangible.  It's not just people coming together having a good time. They're facing real life-changing situations," she says. 
Some members of the Center community are battling dire circumstances. Some are unhoused. Some have been turned away by their families, recently or many years ago. Some
are facing discrimination and persecution at the hands of employers or the state. The center is a place to connect to resources, advocacy, and community.
As treasurer Michael Fletcher, puts it, the Center is also about "a single word: opportunity. It is an opportunity for LGBT people to find others like themselves that aren't necessarily inside of a bar somewhere. Someplace for people who are new to New Orleans to find others who are like them. And it's an opportunity for the board and its volunteers to give back."
"Ultimately our goal is to make it feel like a home away from home," Switch says.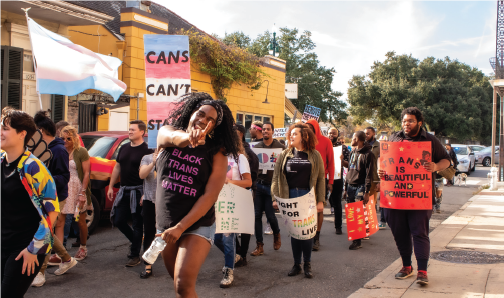 Today, funding from the Greater New Orleans Foundation tends to this home, which holds around 300 meetings on an average year, ranging from small groups to over 60 people each. The meetings are varied. In addition to the youth group meetings, the Center hosts queer dancing, art therapy sessions, movie nights, gaming meet-ups, support groups, fundraisers, and more.
"There would be plenty of times where I don't think that we would even have the Community Center if we didn't have the generosity from the Foundation," Fletcher explains.
"The Foundation's funding has been responsible for us paying our rent on time, paying our internet on time, making sure that we have not only a community center, but have a safe space that is accessible—for wheelchair accessibility, and also that is accessible to public transportation," Jackson says.
And in providing this concrete financial support, the LGBTQ Fund provides deeply personal support as well.
"We see so many youth come through our doors, and they see the space as a second home or a safe space where they can be truly and authentically themselves. So the funds give people a right to be human, a right of being without any type of scrutiny and or judgment. It's a home away from home, a liberating space. There's no veil that is needed when a person feels free in a space, and that space was given to them by funding from other philanthropists through the Foundation's LGBT Fund," Jackson explains.
She notes that all this is transformative for the Center's community.
"This space itself—the energy that hovers—gives them that opportunity to come into the space as a caterpillar and leave there in some form of a butterfly."