Greater New Orleans Foundation and Bayou Community Foundation joined local residents, state and parish leaders, and nonprofit partners on April 26 in celebrating the completion of the first two homes built in the Terrebonne Parish bayou community of Dulac through both Foundations' Hurricane Ida recovery programs.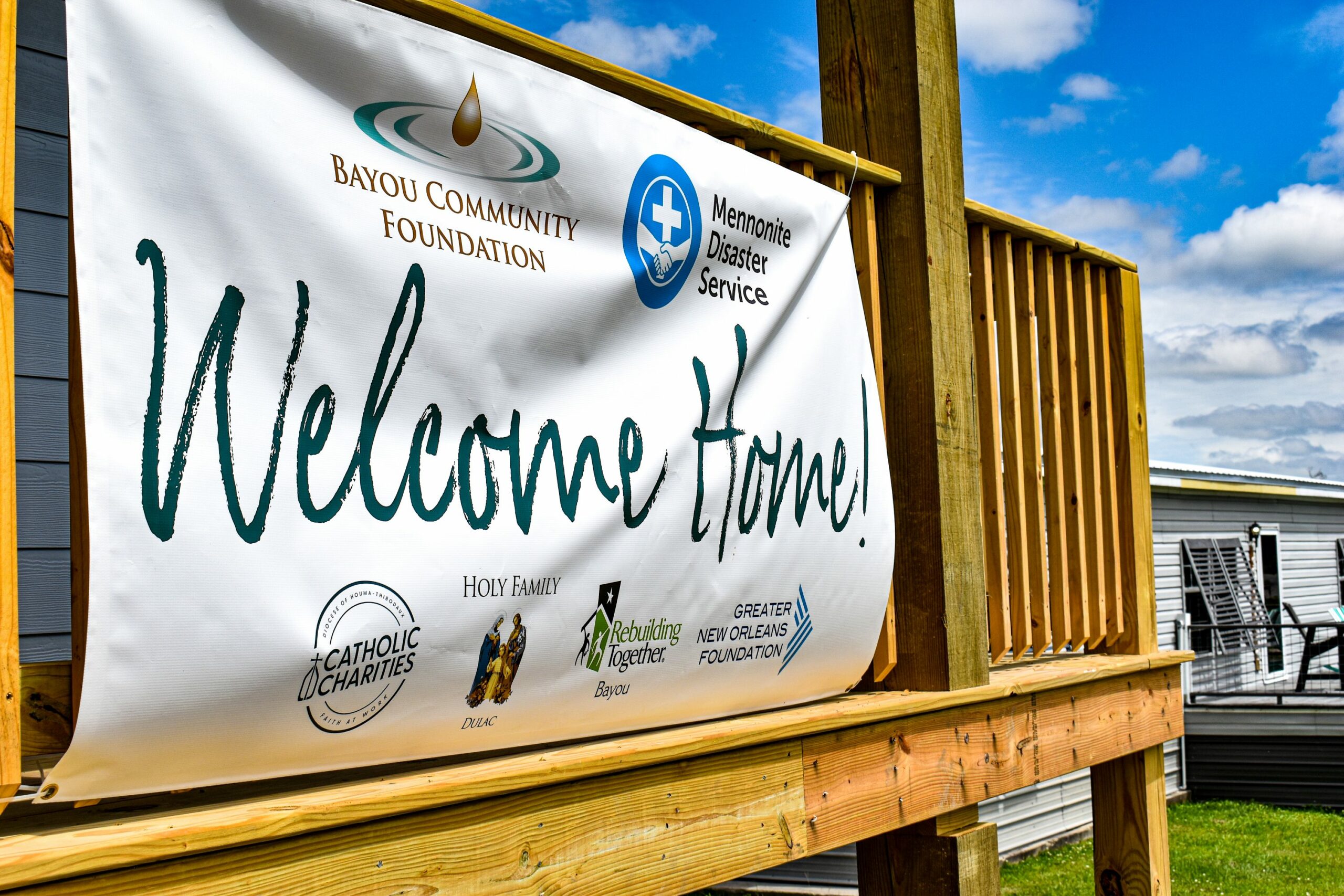 The homes were built by Mennonite Disaster Service (MDS) through an $850,000 grant from Bayou Community Foundation's Bayou Recovery Fund for Hurricane Ida Relief, including a $300,000 matching grant from Greater New Orleans Foundation's Hurricane Ida Disaster Response & Restoration Fund and support from the Governor's Hurricane Ida Relief and Recovery Fund and other donors.
With this grant, MDS is constructing 10 new houses and completing 40 or more major home repairs in Dulac through the end of May, allowing 50 needy families in this storm-ravaged rural community to return home.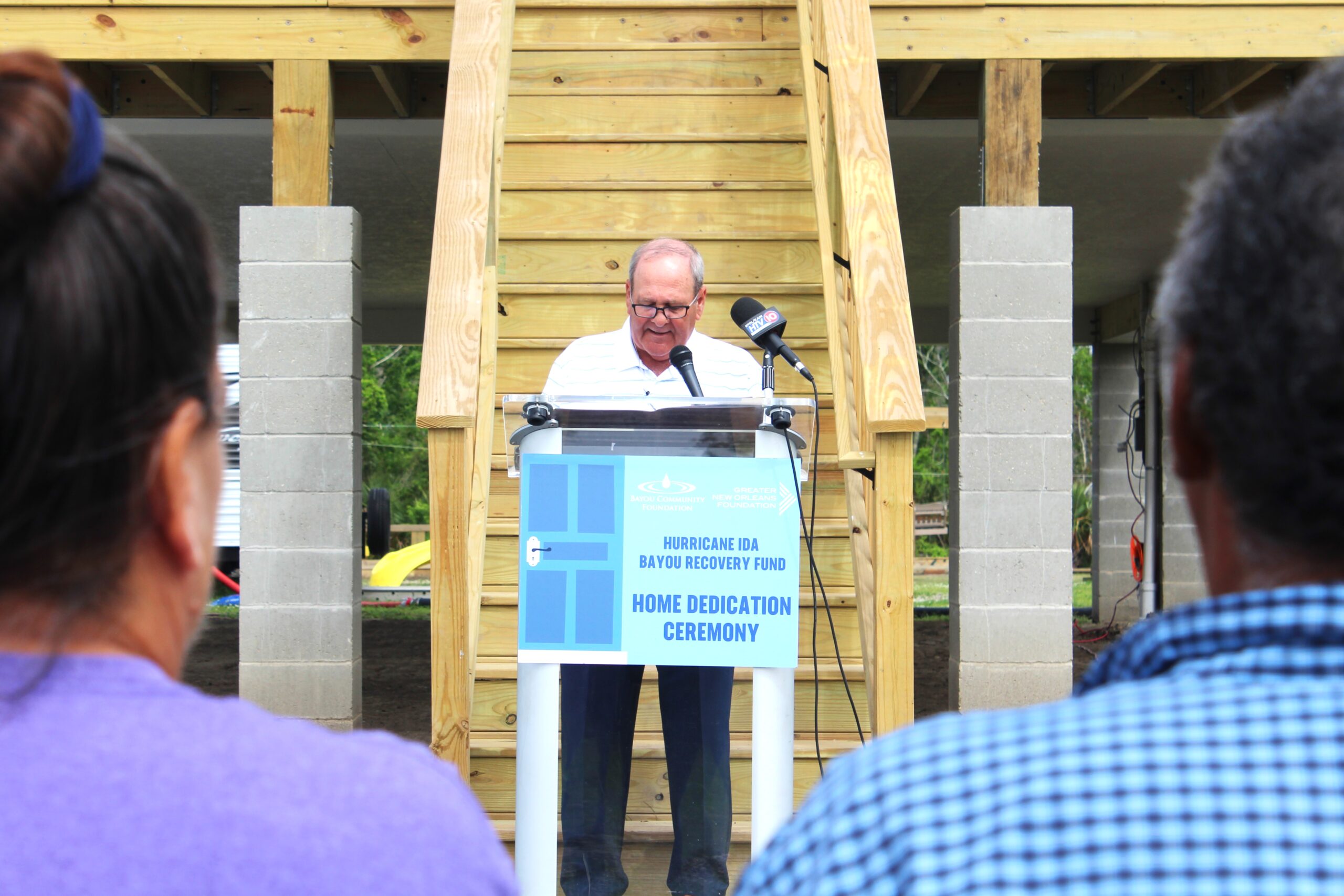 "After Hurricane Ida made landfall here on August 29, Bayou Community Foundation recognized that our community's recovery depended on providing homes for the neediest who lost so much. We are grateful to MDS for sending volunteers to Dulac and working with us to fill this critical housing need," said Bayou Community Foundation President Henry Lafont.
"Today, thanks to an extraordinarily successful partnership between Bayou Community Foundation, MDS, Holy Family Catholic Church and Catholic Charities of the Diocese of Houma-Thibodaux, and the generosity of our Bayou Recovery Fund donors, Greater New Orleans Foundation, and the Governor's Hurricane Ida Relief and Recovery Fund, we are excited to welcome the first two families to their new homes," Lafont said. "This is just the beginning. Bayou Recovery Fund grants will continue to help residents repair, rebuild and return to our unique and precious Terrebonne, Lafourche and Grand Isle communities in the months ahead."
"The Greater New Orleans Foundation was thrilled to provide $300,000 in matching funds to support this exciting partnership with the Bayou Community Foundation," said Andy Kopplin, President and CEO of Greater New Orleans Foundation. "The families in Dulac were some of the hardest hit in our region during Hurricane Ida, and we thank the nearly 1,500 individuals, corporate, and foundation donors who gave generously to our fund so that we can support nonprofits working on the ground to help families get back in their homes."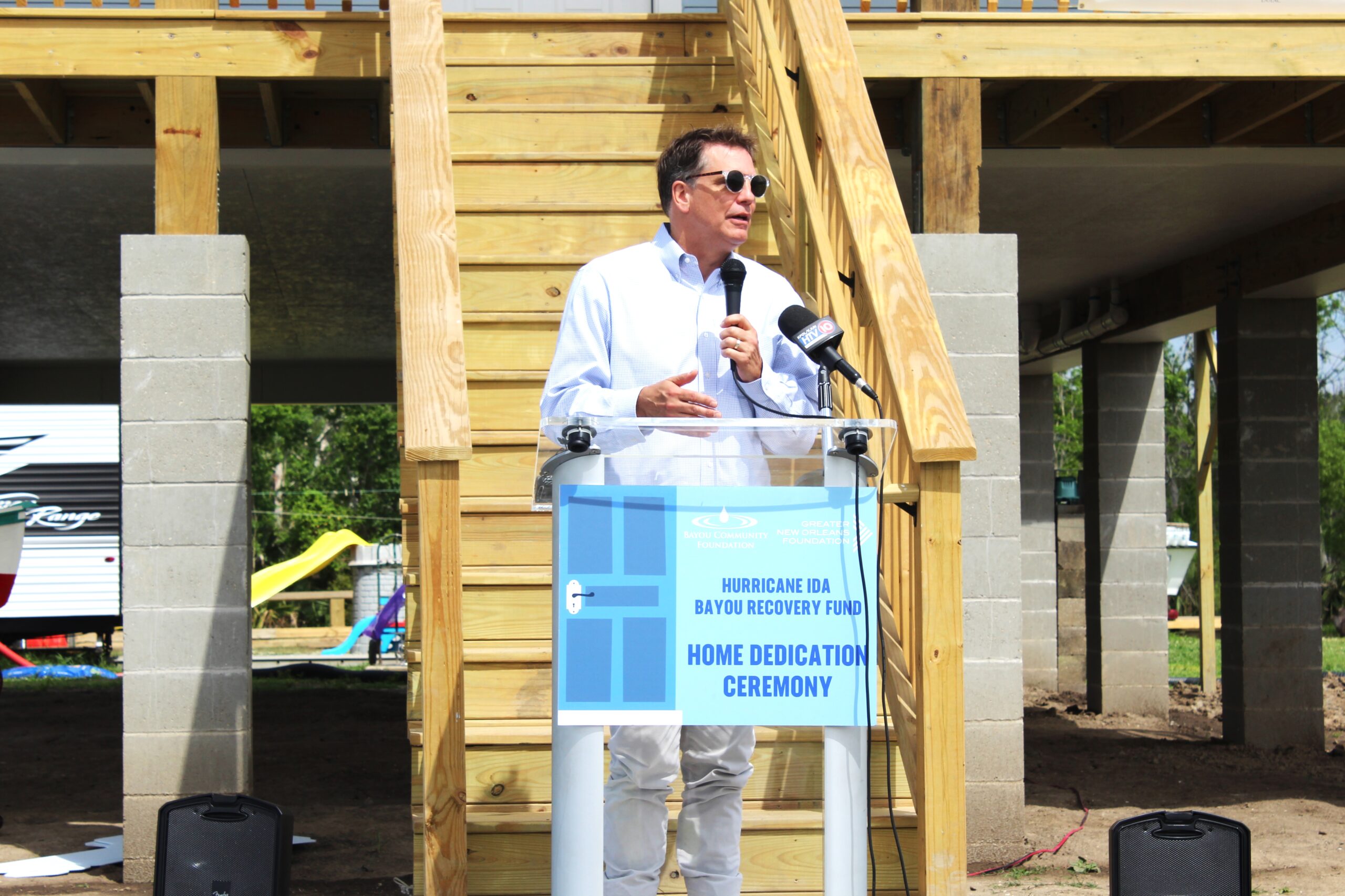 The two- and three-bedroom MDS homes in Dulac are designed and built for storm resiliency as part of the Federal Alliance for Safe Homes "Strong Homes Initiative." Strong Homes provides donated services and products to upgrade homes to meet the IBHS FORTIFIED hurricane wind standard. The homes are rated for 160 mph winds and are elevated far above FEMA requirements. Grant funds are used to purchase building materials, while construction labor is provided at no cost by MDS volunteers. Homeowners also contribute insurance or FEMA proceeds received toward construction costs, and appliances are donated by nonprofit Rebuilding Together Bayou.
"MDS is grateful to join hands with so many wonderful partners as we put our faith into action with a hammer and paintbrush serving our neighbors in need. From our offices in Pennsylvania, I keep hearing reports of the gracious hospitality of the Dulac community – that our volunteers keep wanting to go back and serve," said Kevin King, Executive Director of MDS.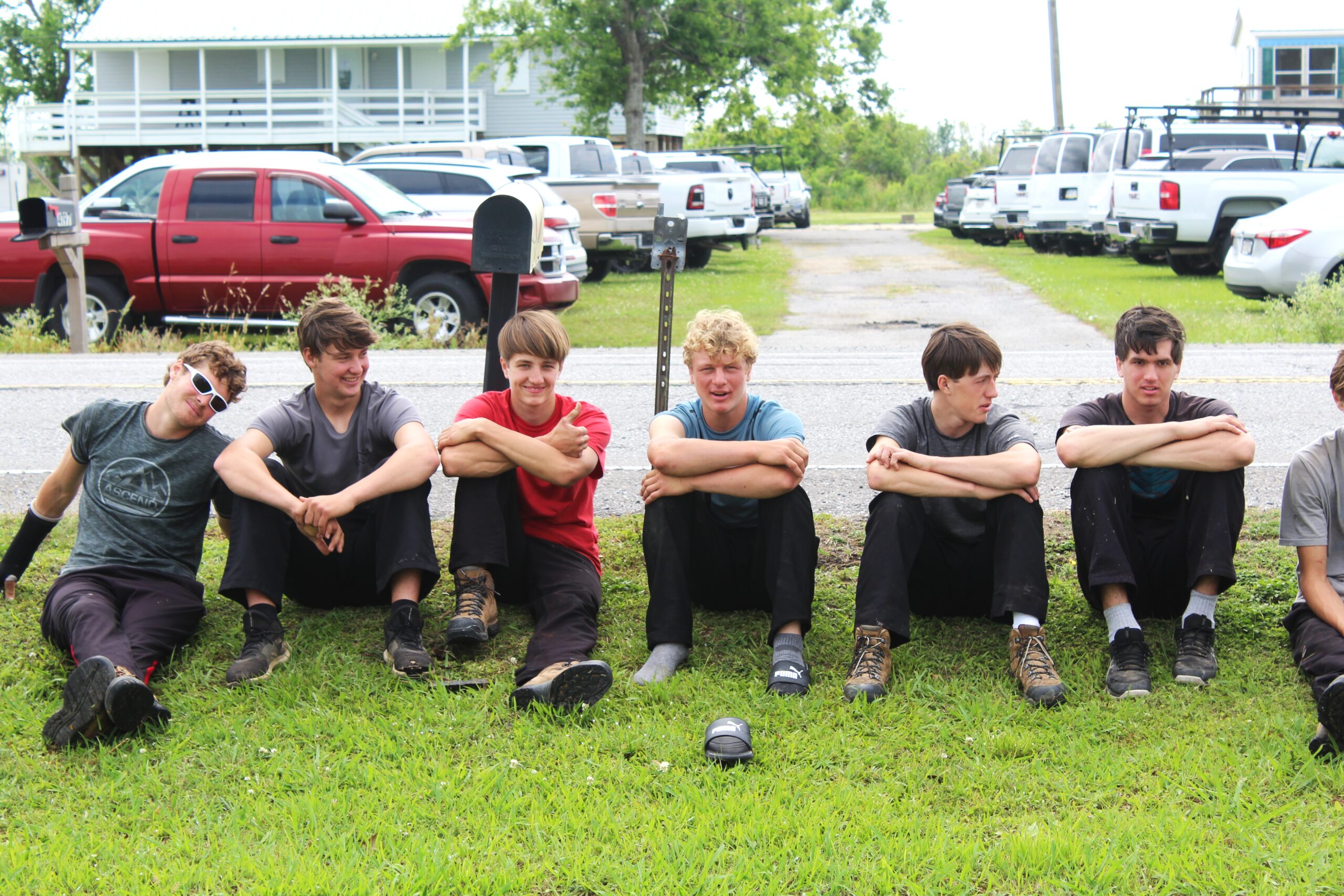 Abraham and Robin Parfait and their two young sons lost their home and all belongings along Bayou Grand Caillou in Dulac during Hurricane Ida when their roof was torn away in the Category 4 winds. The family was left with no means to rebuild, until they learned about the MDS project.
"Hurricane Ida took all of the 'things' in our life, but not what matters most – our family and friends. We are grateful for all of our new friends from MDS, Bayou Community Foundation and other groups who have given us a new chance at life and a new, beautiful, strong home along the bayou. This is where the Parfait family belongs, and we thank God and all the generous donors and volunteers who have helped us rebuild a home here," said Abraham Parfait.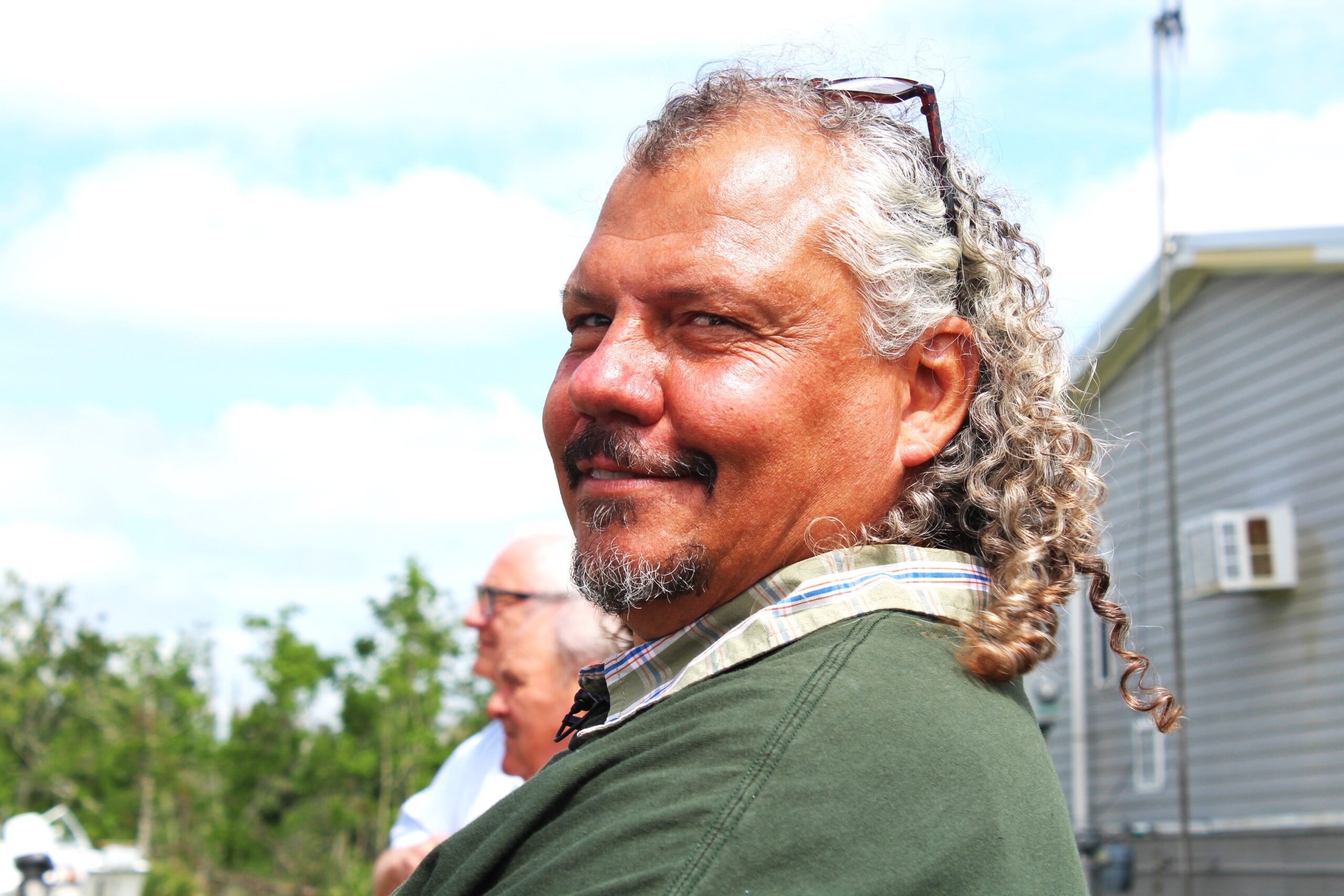 The Parfait family and others have been identified and selected for this Hurricane Ida home rebuild and repair program through extensive case management efforts of Holy Family Catholic Church in Dulac and Catholic Charities of the Diocese of Houma-Thibodaux. In addition to the 50 homeowners initially selected for assistance this spring, over 100 homeowners remain on a waiting list for the project.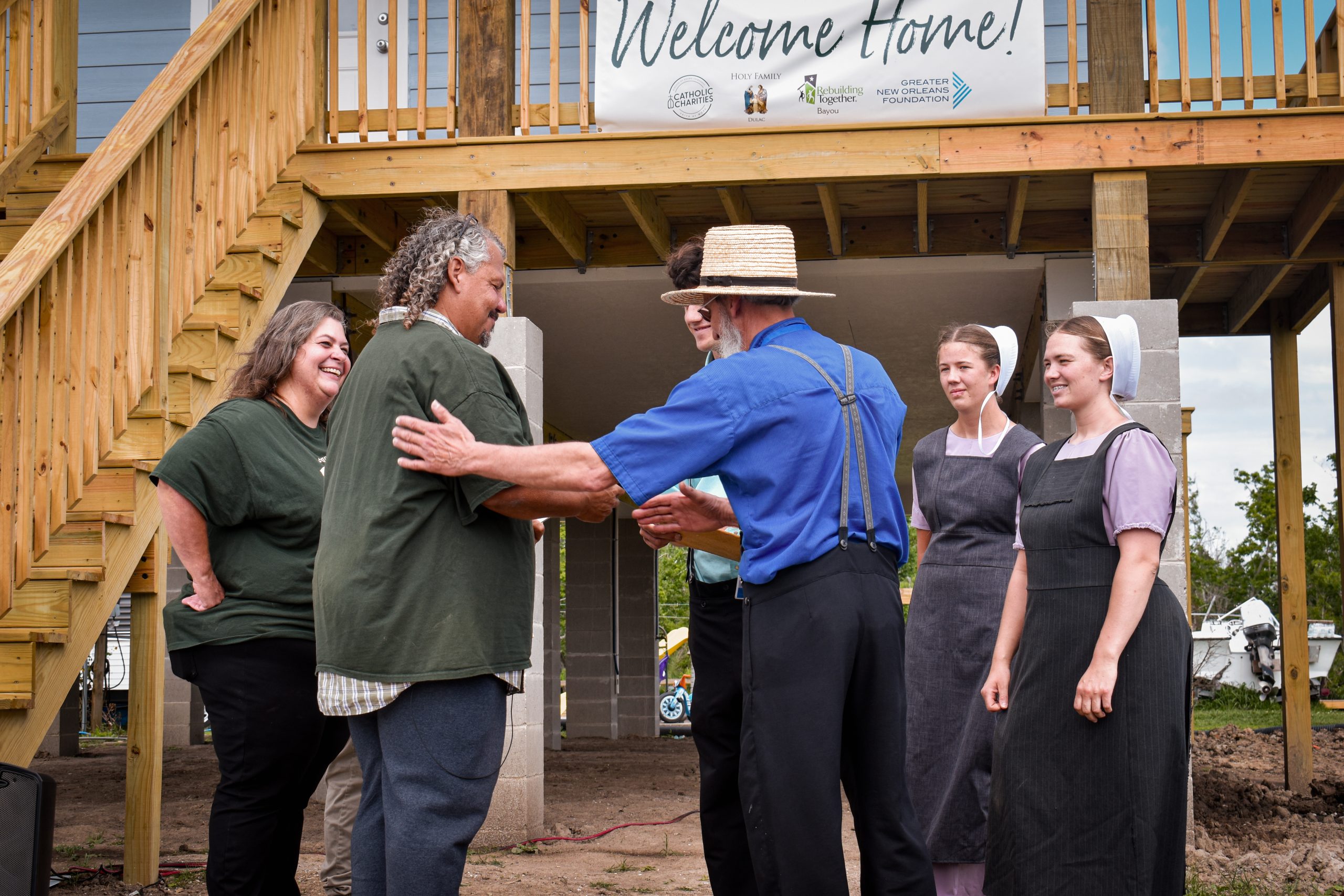 Recognizing this tremendous housing need, one major donor to Bayou Community Foundation's Bayou Recovery Fund has announced a challenge grant to fund continued home rebuilding and repair work in Dulac this fall. The Ray & Kay Eckstein Charitable Trust has committed a gift of $500,000 to support the project with the challenge that Bayou Community Foundation raise an additional $500,000, providing at least $1 million to fund another building season with MDS beginning in October.
"The Eckstein family has been a very generous donor to the Bayou Recovery Fund since Hurricane Ida made landfall, and this new $500,000 challenge grant from the Ray & Kay Eckstein Charitable Trust is another significant, impactful investment in our bayou communities' recovery," said Bayou Community Foundation Executive Director Jennifer Armand. "We invite other donors to join us in meeting this challenge and raise at least $1 million to build many more homes over the next year for the neediest of our neighbors left homeless by Hurricane Ida."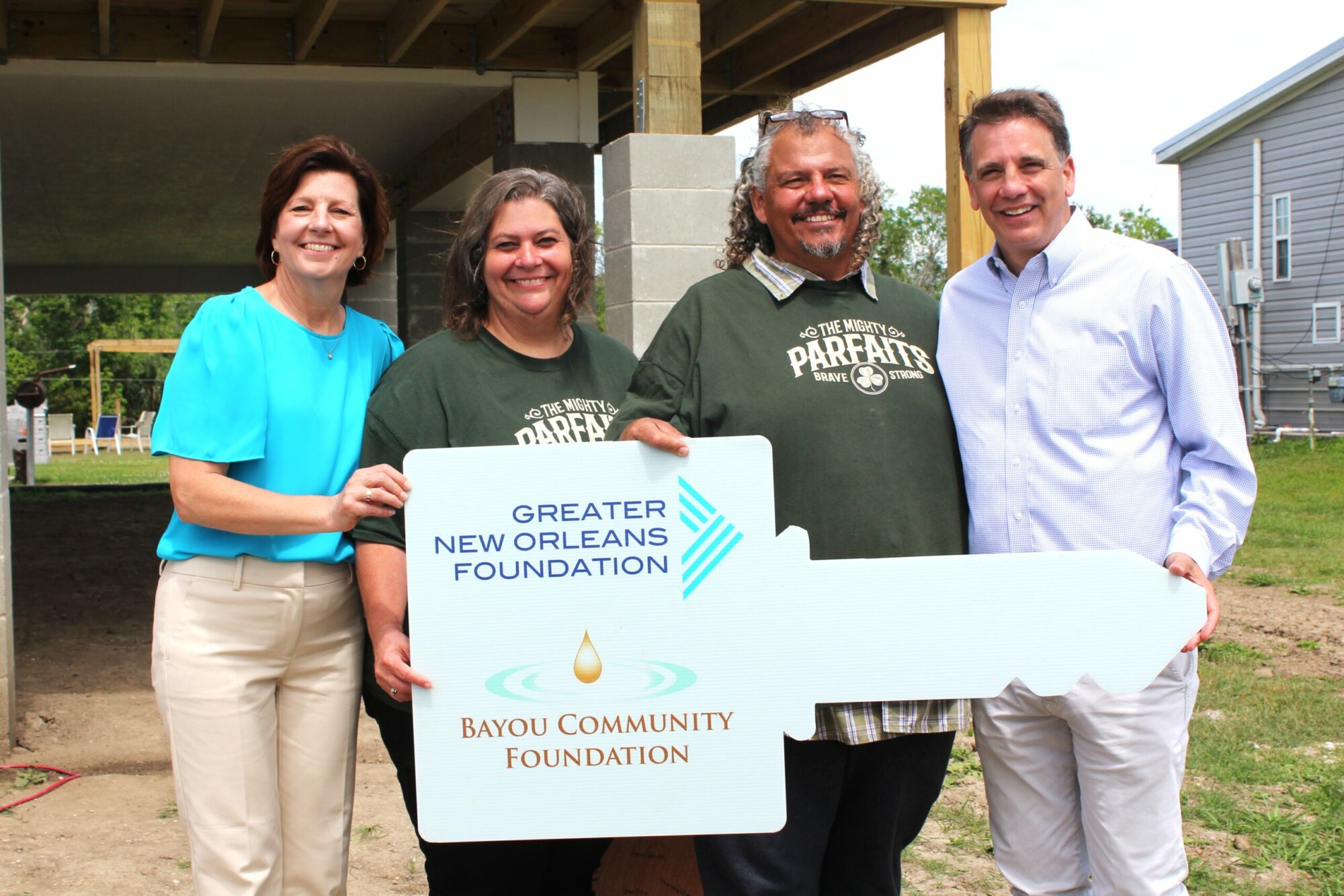 ###
About the Bayou Community Foundation
Bayou Community Foundation is the only charitable foundation solely focused on building and sustaining the unique Louisiana coastal communities of Lafourche Parish, Terrebonne Parish, and Grand Isle. BCF helps donors strategically invest in the causes and organizations they care about and address critical community needs through nonprofit grant programs, needs assessments and other efforts, creating a compassionate and resilient bayou community for all. Since 2013, BCF has awarded over $2.2 million in annual grants and COVID-19 relief grants, and through its Bayou Recovery Fund for Hurricane Ida Relief, the Foundation has invested $5 million in critical relief and recovery services for local residents. Visit www.BayouCF.org.
About The Greater New Orleans Foundation
With roots extending nearly 100 years, the Greater New Orleans Foundation has over 1,000 different philanthropic funds and assets of $460 million. The Foundation serves the 13 parish region of Southeast Louisiana including Assumption, Lafourche, Terrebonne, St. Charles, St. James, St. John, St. Tammany, Jefferson, Orleans, Plaquemines, St. Bernard, Tangipahoa, and Washington. Over 900 nonprofits from the region participate in its annual online giving day, GiveNOLA Day, which has raised over $40 million for nonprofits in the last eight years. The Greater New Orleans Foundation has responded to every disaster since Hurricane Katrina, when it led the Unified Community Planning Effort and a $23 million affordable housing fund. The Foundation distributed nearly $7 million in response to the COVID-19 pandemic and has distributed over $4 million in response to Hurricane Ida.