We reconceptualized our Emerging Leaders program, designed to support a pipeline of future executive and senior nonprofit leaders in southeast Louisiana. On October 11, 2022, twenty-five leaders gathered at the Greater New Orleans Foundation to begin this dynamic, strengths-based leadership development journey.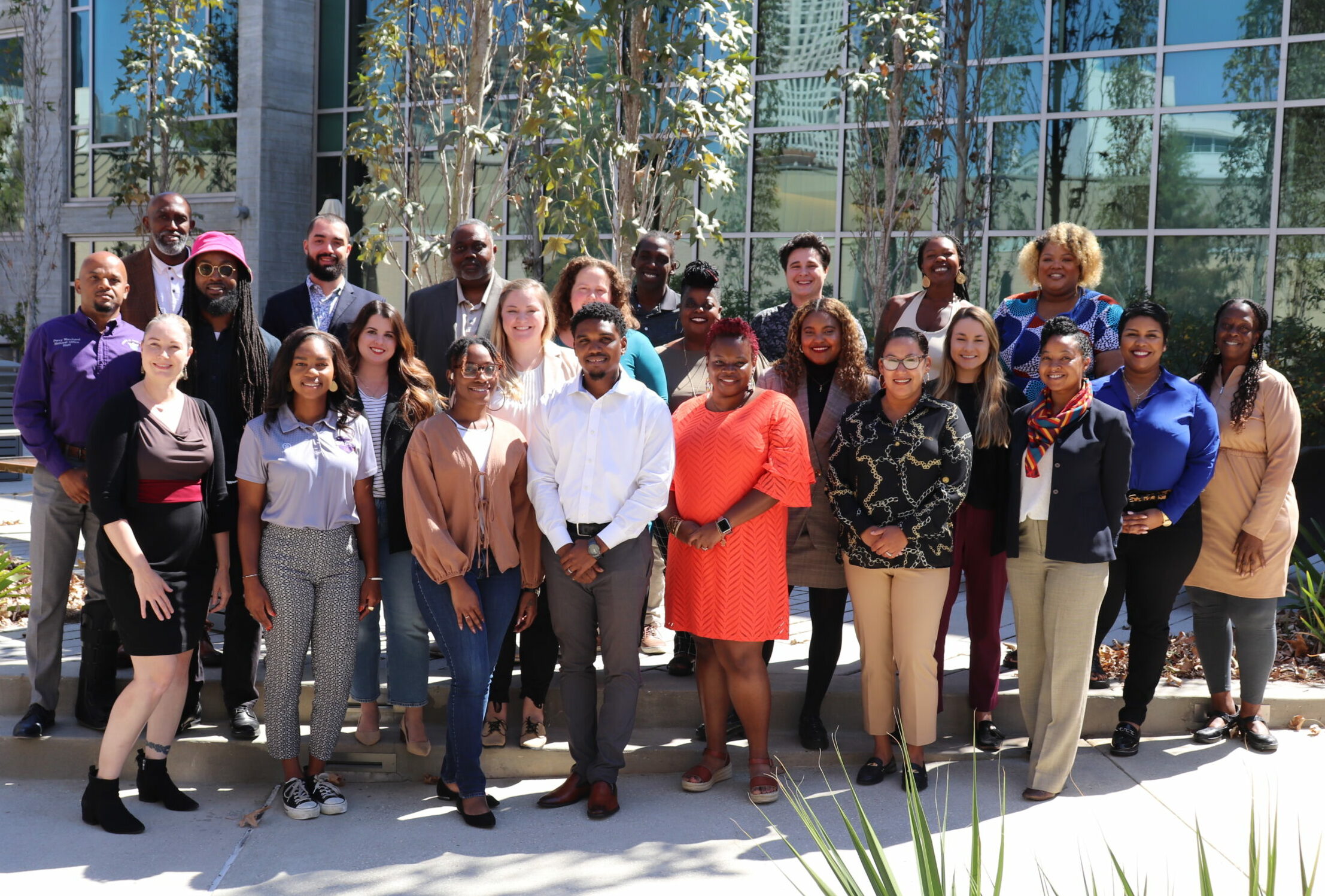 Emerging Leaders Redesigned 
In 2018, the Greater New Orleans Foundation underwent strategic planning and committed to equity as a value for the Foundation to center. For our robust Nonprofit Leadership and Effectiveness (NLE) offerings, this meant evaluating our programming to identify opportunities to advance equity.
In 2020, we engaged a diverse design team comprised of majority BIPOC (Black, Indigenous, People of Color) leaders to explore their ideas on leadership, the skills needed to be an effective leader, their challenges in securing leadership development, and what they would need to become executive directors and senior leaders in the nonprofit sector. Their input was the basis for the redesign of the Emerging Leaders program. 
Our decision to focus on BIPOC leaders came from several different reflections:   
Our research on a

racial leadership gap

in the Greater New Orleans area demonstrated the need for more leadership development opportunities for people of color. 

 

In 2020, the Foundation established the

Greater Together Fund for Racial Equity

,

which advances racial equity and justice in our region by investing in black-led nonprofits.

 

Nonprofit leaders advocated for the Foundation to uplift and focus on leaders of color through our

Nonprofit Leadership and Effectiveness

programming and funding. 

 
For these reasons, we intentionally wanted to center BIPOC leaders in this program and affirm their strengths, their experiences, and the unique challenges they face in the nonprofit sector. It was important to the NLE team that the program provide space to explore leadership styles and how power, justice, and equity shape leadership practices and development. 
What's New about the Program? 
The Emerging Leaders curriculum addresses the gaps in skill development identified by the design team and research conducted by the Foundation in 2019 and 2020. While participants will learn about fiscal management, organizational sustainability, fundraising and fund development, and governance, they will also explore how equity and justice shape organizational systems and relationships. 

 

Our facilitators look like the leaders. We determined it was important to contract with local BIPOC facilitators and for these facilitators to have lived experiences in the nonprofit sector. With our focus on local consultants, we wanted to acknowledge and elevate the talent that is present in our region. 

 

Cohort members meet monthly over an 8-month period. Adult learners need the space to absorb and try on their newly learned skills over time. In between sessions, participants are encouraged to experiment with their learnings while supporting each other in doing so.

 

The program now has an online learning platform that participants use to receive resources and session materials and build community. During the pandemic, we leaned on technology as a connection point for our participants and continue to use it as a place for our cohort to privately share ideas and connect with each other in-between sessions. 
Meet our Emerging Leaders!
If you want to learn more about Emerging Leaders and other Nonprofit Leadership and Effectiveness events, please contact Kristen Craig at kristen@gnof.org.