The Greater New Orleans Foundation is proud to announce the winner of the inaugural Pitch It! The Innovation Challenge, UNITY of Greater New Orleans. Emily Danielson, Director of Research and Public Policy, pitched for UNITY. Their big idea is a statewide "supertool" to swiftly and strategically assess homeless clients and to more effectively target limited services, housing, and resources to end people's homelessness. UNITY was awarded $25,000 to power this innovative idea. Congratulations to UNITY for knocking it out of the park!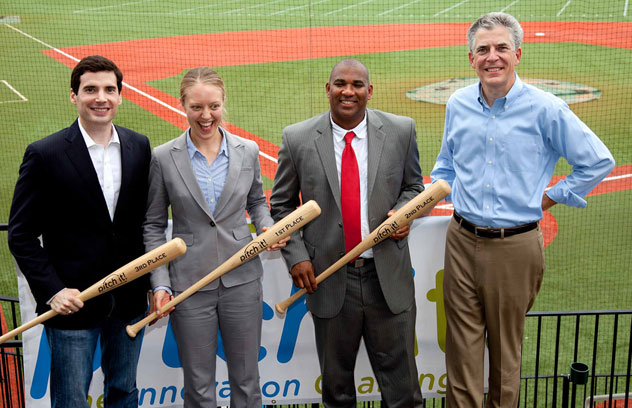 Coming in second place was The Gentilly 6, a cohort of Project Home Again, Build NOW, Liberty Bank CDC, Ponchartrain Park CDC, Project Homecoming, and St. Bernard Project. Their big idea is to fight blight and abandonment by creating an investors pool that will give them legal leverage to negotiate cures with negligent property owners. The Gentilly 6 was represented by Oji Alexander, Project Home Again's Project Manager. The Gentilly 6 received $5,000 to assist in creating their investor's pool.
Third place went to Covenant House, whose big idea is YOUTHCONNECT, an innovative new "app" for at-risk youth. This app will be a valuable mobile resource with a dynamic and intuitive interface, allowing youth to easily connect to vital community services and one another. Covenant House was represented by two people: Jim Kelly, Executive Director and Rich Arnold, Director of Development and Communications. Covenant House was awarded $2,500 to put toward development of YOUTHCONNECT.
We will track the progress of all our finalists on our Organizational Effectiveness blog.
The Greater New Orleans Foundation would like to extend thanks to the many people and groups who contributed to the inaugural Pitch It! challenge. Thank you to our sponsors, The Kresge Foundation, Southwest Airlines, and Tulane University; to our judges, Guillermina Hernandez-Gallegos with The Kresge Foundation, Matt Wisdom of TurboSquid, Maurice Cox with the Tulane City Center, and Jeanne Bell of CompassPoint; our judges, Maureen Huguley and Sally Forman of MS Communications; and our umpire, Mark Romig. Thank you to all of the organizations who submitted Pitch It! applications – you can see their Big Ideas here. Lastly, thank you to everyone who came out to Pitch It! and who really made this event a GRAND SLAM.