For 165 years the YMCA of Greater New Orleans has worked its noble mission – strengthening community through youth development, healthy living and social responsibility. Wars and hurricanes, floods and oil busts, Katrina, Rita and levee breaches don't keep the Y down for long. Through programming in summer camps, adult literacy, aquatics, senior wellness, leadership development, youth sports, diabetes prevention, early childhood learning, and more, the Y has transformed lives, families and communities little by little, every day. Generation after generation of New Orleanians have learned how to grow and thrive at the Y. Through all the ups and downs of living in south Louisiana, the Y has shown that resilience, imagination and energy are baked into its organizational DNA.
Gordon Wadge, the Y's President and CEO, explained that in 2015 it was the right time for the Y to take up the considerable challenge of raising an endowment. "We were well aware that an endowment fund is an important piece we needed to stabilize our financial picture. We knew about the Freeman Endowment Challenge at the Greater New Orleans Foundation and it made a lot of sense for us to go for it in the 2015-2016 cycle."
The YMCA of Greater New Orleans was admitted into the Freeman Challenge program in February 2016, and set $50,000 as a goal for what it called its Heritage Club Endowment Fund. If they reached the goal before November 30, the Freeman Challenge would match with $25,000. It was a neat proposition. But who's best from the Y Board to lead the Challenge Campaign?
"We thought that an Endowment "ask" was best made person-to- person by someone who's passionate about the Y mission and has a long history with the Y, a Heritage", said Erica Halpern, the Y's Development Director.  In the Y family of donors and supporters there's a very deep bench of generous Board Members, Emeritus Board members and friends who understand what an Endowment Fund does for an organization and who have been "all in" at the Y for a long time. Who's best to speak to them?
The Answer: Karen Saunders DeBlieux.
Karen DeBlieux on a Mission for the Y
Karen Deblieux, long time Board member of the Y, is a self-described "Y Kid "who grew up participating in Y camps, classes and leadership activities. "I would definitely agree that I grew up in the Y," she said." We had eight kids in our family and we all participated in Y athletic and leadership camps and classes. My mother was a Board member. In fact, I actually met my future husband Peter as a teenager when we both participated in a Y Leadership Camp in North Carolina."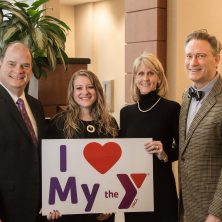 "Karen is a great Board member and agreed to lead the Heritage Endowment Fund Campaign," said Erica Halpern, "but she's also a very busy banking executive, Capital One's Market President for Southeast Louisiana. We knew we had to support her with research and information so that she could efficiently make her calls and "asks."
Karen knew right where to start with her campaign." I went straight to my own family – my siblings got on-board early, "she said. Early success with her family encouraged her to move on to current board members, emeritus board members and all former leaders of the Y – who share a heritage with and passion for the Y mission.
"The compelling part of the discussion with donors was the match," said Karen. "It was persuasive for donors to understand that a $1000 commitment to the Heritage Endowment Fund would instantly grow to $1500 with the match tacked on."
As Karen, Gordon and Erica marched through the campaign, Karen confirmed that 90 percent of the campaign commitments were made over the phone.
Challenge Met By The Y
The original goal of the Y's Freeman Endowment Challenge was $50,000. Determined, passionate leadership broke through the goal by October of 2016. The campaign reached $50,960. The Freeman Challenge was met timely and now the YMCA of Greater New Orleans Heritage Endowment Fund of $75,000 and growing, is housed in perpetuity at the Greater New Orleans Foundation. Challenge met with enthusiasm and pride.
Interested in participating in the Freeman Challenges? Attendance at a readiness workshop is required for participation. Sign up here!